Acupuncture at Advanced Healthcare Associates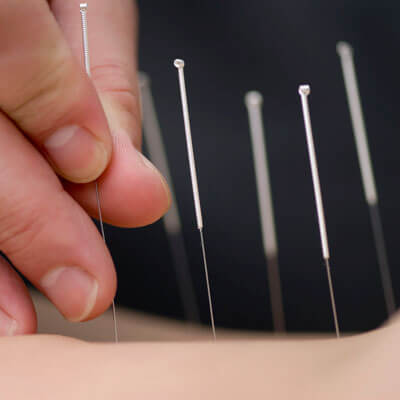 At our practice, it's a goal to help patients feel their best by bringing them a variety of different treatment modalities to fully optimize your body.
We're proud to offer acupuncture, an ancient Chinese method for restoring balance to the body, increasing energy and improving health.
Here's a little more about it.
What is Acupuncture?
Acupuncture involves using small, thin needles placed into specific, focused points of the body to help balance and restore energy. At its core, acupuncture is designed to help increase the body's ability to function properly. The best way to think about acupuncture is to imagine rivers of energy throughout your body, organized by meridians. These meridians can experience a "log jam" and energy flow is restricted. The needles help loosen the logjam and allow energy to circulate properly.
When combined with chiropractic care, patients often experience incredible results.
The best part? Nearly anyone can benefit from acupuncture — especially those dealing with:
Chronic pain
Headaches
Digestive problems
Breathing issues
Heart problems
Athletes
Anxiety
Food addictions (sugar)
Knee pain
And more
While some patients may be nervous about having needles placed in their skin, we promise that the process is entirely comfortable-even relaxing! Most times, patients don't even notice needles are being placed-that's how thin they are. We'll always explain what we're doing as we put them in to help make you comfortable.
We encourage you to ask any questions that you have — we want you to be an active partner in your care.
NEW PATIENTS »

Facial Acupuncture
Dr. Warden is happy to offer patients a natural treatment for the reduction of fine lines and wrinkles in the face with facial acupuncture. Patients have even reported improved muscle tone, reduced forehead wrinkles and nasolabial folds.
Ask us if it's right for you on your next visit!
Learn More Today
We'd love to speak with you about what all-natural acupuncture can do for you or a loved one. Get started today by contacting us with your questions or to book an appointment-we can't wait to help you achieve your goals in health.
Contact us today!
CONTACT US »

Acupuncture Wheaton, Glen Ellyn IL | (630) 260-1300