Chiropractic Care
When it comes to your health, we want the best for you, which is why we're proud to offer a number of different chiropractic adjustment techniques to meet the needs of your body.
Together, we'll work with you to build a custom care plan designed to fully optimize your body and help it reach its full potential.
What Is Chiropractic Care?
Chiropractic is designed to bring your body back to balance. By addressing the position of each vertebrae, we can improve the function of each joint in your spine, allowing nerves to communicate with the brain properly, sending messages to organs with ease. That's the real power of an adjustment!
The best part? Chiropractic care is a completely natural modality — there's never any drugs or surgery involved. In fact, many of our patient's found chiropractic care for those exact reasons — to get away from constantly reaching for pain pills or to avoid surgery!
NEW PATIENTS »

Getting Adjusted
When you visit us for care, we'll start by learning more about your health goals and why you're here. We'll talk about what we can do for you and how chiropractic care can help. We want you to be an active partner in your care — if you have questions, please, ask away.
Dr. Warden offers a number of different adjustment styles for patients of all walks of life and ages. Some of our techniques include: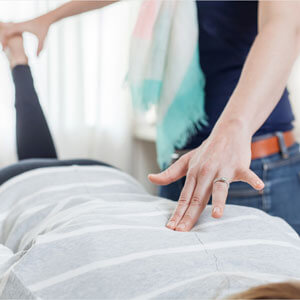 After identifying which vertebrae have lost their normal motion or position, a specific manual thrust is applied to free up "stuck" spinal joints.
This is a system of spinal evaluation combined with a handheld adjusting instrument that delivers a consistent, low-force thrust.
Testing the strength of specific muscles of your body helps us find structural, chemical and mental problems and monitor your results.
While every patient is unique, we often see people in our office benefit from care in the following ways:
Improved sleep
Pain reduction
Lower stress
Heightened immune system
General wellness
Reduced back and neck problems
Injury relief
And more
Once you're feeling better, we'll switch our visits to focus on helping you maintain your health and results. At the end of the day, we want you living a happier, healthier life and moving with ease for the long-term-and we know that we can help you get there.
Learn More Today
We'd love to connect with you about exactly how we can devise a care plan to meet your needs. If you'd like to get started, contact us today to book an appointment. We look forward to welcoming you into our practice.

Chiropractic Care | (630) 260-1300