Orthotics at Advanced Healthcare Associates
Your feet are the base for your entire body. They help you stay upright and go about your day! More so, your feet are crucial to how your body functions. As the foundation for our being, it's important to make sure our feet are working as they were designed to.
With custom orthotics, we're able to correct common problems like arch abnormalities, flat feet, and more.
Imagine this: You've dealt with hip pain for several years, and you're just now deciding to get help. You come into our practice, and to your surprise, we focus on your feet, not your hips! Why? Because issues in the feet can slowly work their way up the body, affecting various areas. Often, we see patients come into the practice complaining about ankle, knee, hip, or low back pain and discover that they've been experiencing foot problems for years. As the years go on and problems in the feet go undetected, they can spread to other areas of the body.
Here, we aim to find the root cause of your problem so we can address it and get you feeling better.
What We Offer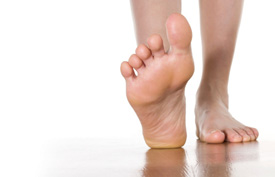 We're proud to offer a few different options when it comes to orthotics. All orthotics offered are custom fit to your unique needs and we have several different types for various budgets. Some options include:
Creating orthotics via computerized scanners
Inserting feet into a foam box and sending the impression to a lab for a uniquely created pair
Purchasing in-office orthotics that can be trimmed to fit your specific needs
Frequently Asked Questions
I've worn orthotics in the past and didn't like them. How will these be different?
It's very common for people to wear orthotics that aren't exactly fitted to their needs. We'll make sure that your orthotics are comfortable and designed to address your specific issue, whether it's arch support, flat feet, or something else.
Can I wear orthotics in sandals?
Yes! Orthotics are much more advanced now than ever before, and can be worn in just about any type of shoe.
Will I have to wear orthotics forever?
We recommend wearing orthotics for life to ensure that your problem remains corrected.
Orthotics can help reduce foot pain, back pain, hip issues, knee pain, and even problems all the way up to the head and neck! We also welcome diabetes patients to give orthotics a try as it can do wonders for neuropathy pain.
Learn More Today
We'd love to welcome you into the practice to learn more about custom orthotics. Get started today by contacting us for an appointment!

Orthotics Wheaton, Glen Ellyn IL | (630) 260-1300