Cranio-Sacral Therapy at
Advanced Healthcare Associates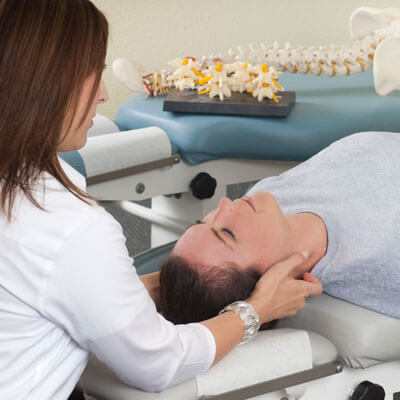 At Advanced Healthcare Associates, we're dedicated to helping our patients experience a wide variety of healing methods that promote wellness from within.
CranioSacral Therapy consists of very light, gentle, physical touches to help release stress in the body, promote relaxation, and improve overall function. When you visit us for an appointment, our practitioner, Roxy, will listen to your concerns and pinpoint what areas of your body would benefit most from the therapy.
Who Can Benefit?
Nearly everyone can benefit from CranioSacral Therapy! Whether you have a chronic or acute condition, or just want to relax for half an hour while you de-stress, this gentle modality can provide the relief you're seeking. Patients with migraines, headaches, fatigue and more have all found success in our care.
Our goal is to help you feel better so that you don't need to see us any longer — we truly want what's best for our patients.
NEW PATIENTS »

Meet Our Practitioner, Roxanne Garcia
Roxanne loves working with patients of all ages, and has a very personal reason for getting into CranioSacral Therapy. When her daughter was just three months old, she noticed that she was having difficulty lifting her head straight up. After mentioning it to the doctor, who brushed it off, she found herself at a chiropractor's office. A practitioner in the office saw her daughter, and asked if she could work on her. Nervous at first, Roxanne obliged. After a few moments of gentle touches on her daughter's head and neck, she looked up with a big, beautiful smile.
From that point on, she was hooked, and began taking CranioSacral Therapy classes herself to learn more about the incredible technique that healed her daughter.
Schedule Your Visit
Ready to learn more about CranioSacral Therapy? We'd love to see you in our practice soon to teach you about the benefits. Get started today by contacting us to book your first appointment. We can't wait to welcome you to the office.
CONTACT US »

Cranio-Sacral Therapy Wheaton, Glen Ellyn IL | (630) 260-1300