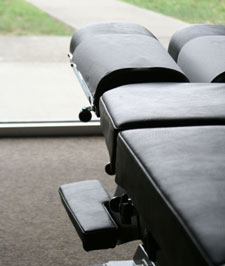 It's always a good idea to take a few moments every year or so to evaluate one's health. Many health problems develop slowly. Without periodic re-examinations little problems can get out of hand and make their correction more difficult.
During the next two weeks we're offering patients we haven't seen in a while a special Progress Exam Update at the reduced fee of $35.00 It's a saving of $65.00 and includes a brief exam, record update, and necessary chiropractic adjustments!
Let's update your records and get reacquainted while you receive a chiropractic "tune-up."
Enjoy the assurance of receiving a "clean bill of health" at a special low price.
*Just a note, our special Progress Exam Update expires November 30th, 2018.
Call for an appointment today!
New services at the clinic:
The big news is I personally am now one of only three Doctors in the United States providing an amazing new service. Patient body specific food sensitivity testing out of Europe. This is a program designed for your specific body and is the most accurate test available!
It eliminates and helps with IBS, DEPRESSION, ANXIETY, JOINT SWELLING, LEAKY GUT SYNDROME, INABILITY TO LOSE WEIGHT, SLEEPLESSNESS, SKIN ISSUES and many more.
Know what YOU should be consuming for your specific body.
Call for a FREE on phone or in person consultation with Dr. Warden 630-260-1300
See you soon!